MESTE PLUS 26 cm MATTRESS
Code:
179/SIL/ATY/SIL
179/SIL/SIL/80X
179/SIL/SIL/85X
179/SIL/SIL/90X
179/SIL/SIL/100
179/BAM/ATY/SIL
179/BAM/SIL/80X
179/BAM/SIL/85X
179/BAM/SIL/90X
179/BAM/SIL/100
179/SEA/ATY/SIL
179/SEA/SIL/80X
179/SEA/SIL/85X
179/SEA/SIL/90X
179/SEA/SIL/100
498/ATY3
498/EUC
498/EUC2
498/EUC3
498/EUC4
Choose variant
Related products
Product detailed description
Very variable mattress made of top quality cold foam. This foam is very stable and elastic due to its high weight. Thanks to this foam, the mattress is very durable and does not change its properties in the long term, which is evidenced by a certificate from an accredited testing laboratory. A softening layer of various optional materials is also inserted into the mattress. This bedding layer creates a pleasant mattress surface and significantly improves breathability. A sufficiently breathable mattress ensures an optimal dry environment between the surface of the mattress and the skin.
For the production of the MESTE mattress collection, we use three types of this extraordinary cold foam - soft (light gray), med (brown or gray) and hard (dark gray or blue). In addition to these three basic stiffnesses, a version with a stiffness between soft and med or med and hard can be produced.
You can choose as a sleeping layer:
very breathable

soft HR cold foam

EUCAFEEL

45 kg/m3 - (blue/white)
with extremely breathable BREEZE viscoelastic foam 50 kg/m3 - (blue)
very breathable

viscoelastic foam with an antibacterial effect

SILVER - (grey)
very breathable

stiffer HR cold foam

EUCAHARD

45 kg/m3 - (orange)
The core is protected by a separation knit. We recommend placing the mattress on a COMPACT, FLEX XXL slatted frame or on a firm base.
Cover
New unique design of covers with a large all-over pattern according to the latest trends. These covers are stronger, more durable and, above all, increase the comfort of lying down. Thanks to the unique materials used, the cover retains its shape and plastic pattern for a long time, unlike covers with PES fleece. The total grammage of the filling is 940 gr/m2 for the SILVER, BAMBOO, UNICORN and M-PHONE covers and 1600 gr/m2 for the SEACELL cover. For the filling, we use a special elastic and breathable foam with a high weight (25 kg/m3) developed for this purpose. This gives the cover the necessary elasticity. 3D AIR SYSTEM is a strip on the perimeter of the mattress that really enhances air circulation inside the mattress, as it is a material with incomparable breathability. Due to the open structure of this material, the core of the mattress can be seen slightly when stitched correctly.
Silver - the cover with silver is made of polyester and viscose - lyocell. Lyocell feels like silk to the touch and the structure resembles polyester, cools like canvas and warms like wool. It stands out for its extraordinary absorption capacity and lightness. Silver ions actively act against bacteria.
Bamboo - the upper fabric with bamboo fiber, which is extracted directly from the bamboo stalk, gives the cover a pleasant softness and at the same time higher strength. Bamboo fiber can absorb moisture to a greater extent and then release it into the air when conditions change. Bamboo also creates an effective barrier against bacteria.
Seacell - the unique properties of seaweed help protect your skin from the harmful environment we are exposed to every day. Seaweed is a natural material, rich in essential substances such as vitamins, trace elements, amino acids and minerals.
Surcharge for extended length 201 - 210 cm + 10%, 211 - 220 cm + 20%.
We believe that our products are of the best quality and last as long as possible. ♥ We therefore embellished the production process down to the smallest detail and now we are able to officially guarantee this! We are currently the only company on the mattress and bedding market that has had its products tested by an authorized person and can now provide you with this certificate.
We are happy to present you with this certificate, which underlines the exceptional quality of our products
The measured values ​​are guaranteed by an accredited testing laboratory, whose measurement results are accepted throughout the EU on the basis of certification.
The test shows that individual mattresses were successively compressed 10,000 times at three different points with a force of 1000N (100kg). Wear was then measured at these compressed points - changes in height, changes in stiffness and visual changes in the surface. These values ​​are compared to an unloaded location.
The resulting measured values ​​prove that mabo mattresses are incredibly load-bearing and the changes to the mattress caused by use are negligible. For the MESTE mattress, the change is even so small that it is difficult to measure due to the stated measurement uncertainty (accuracy tolerance).
All this just proves that our mattresses are made of top-quality materials and in a very honest way of processing. This means you get the highest possible quality for your money.
Certificate in pdf format. file can be viewed by clicking on the "100% SATISFACTION GUARANTEE" image above or in the attached files.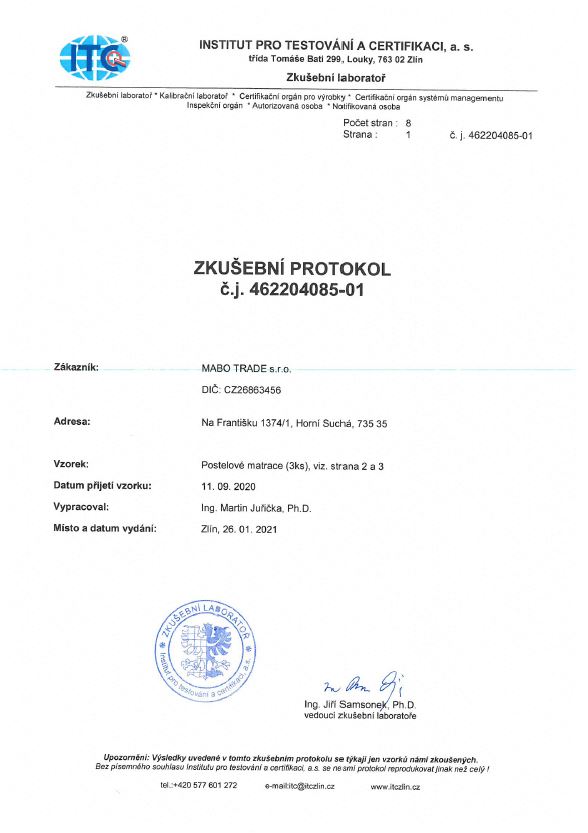 Additional parameters
Category

:

Adults
Warranty

:

10 let

?

Doporučení podle hmotnosti

:

80-110, 110-130
Podle materiálu

:

HR studená pěna
Podle tuhosti

:

tuhá

?

tuhost

:

4/5

?

výška matrace

:

26 cm
anatomické zóny

:

7
maximální nosnost

:

150
hmotnost

:

25 kg